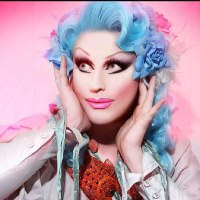 The silk gloves are off as DUSTY O gets ready for a right roasting with the return of London's original DRAG ROAST!

Cabaret stars ROSE GARDEN, KANDI KANE and MZZ KIMBERLEY are ready with their bitchiest put-downs for Dusty!

Organised by QX magazine and the Royal Vauxhall Tavern in aid of Terrence Higgins Trust, the event will see cabaret legend Dusty O roasted by a panel of her fellow drag queens, before getting the chance to snatch back the mic and turn the tables on the panel.

Host MYRA DUBOIS has the unenviable task of trying to keep order on the night, while all the money raised through ticket sales will be used by Terrence Higgins Trust to support those living with and at risk of HIV.

Doors open at 7.00pm, and the performance starts at 8.30pm. Advance tickets cost £10, or £12 on the door, all of which will be donated to Terrence Higgins Trust.
RVT
London
Wednesday Feb 27, 2013
8:30pm-11:30pm